Frequently Asked Questions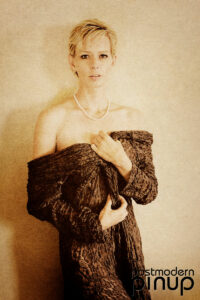 Do I have to be naked?
Absolutely not. The amount of clothing or skin is entirely up to you. This kind of session is about you and what you want. My only goal is to make you look as fabulous as you are.
Will someone else be there?
I will have my female makeup artist or some other female assistant present during your session. You are also welcome, even encouraged, to bring along a friend.
I don't look like the women on your site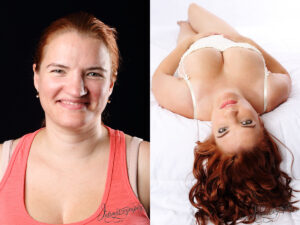 A great session starts with great makeup and hair. I have several extremely talented makeup artists I bring into the studio to take care of your transformation. These women are dedicated to the same goal: revealing your inner goddess. The cost of makeup and hair is included in your session – there are no hidden costs, ever.
So sit back, relax, and let us pamper you.
These are two images from the same day. First, the lovely Erin as she was when she came into the studio – clean face and hair, no makeup and no product. Then, the even lovelier Erin from her session that day. There is virtually no retouching in the second image – this was all done with makeup, hair, lighting, and posing. Every woman has an inner goddess. Let's show it off!
My favorite makeup artists have even been clients.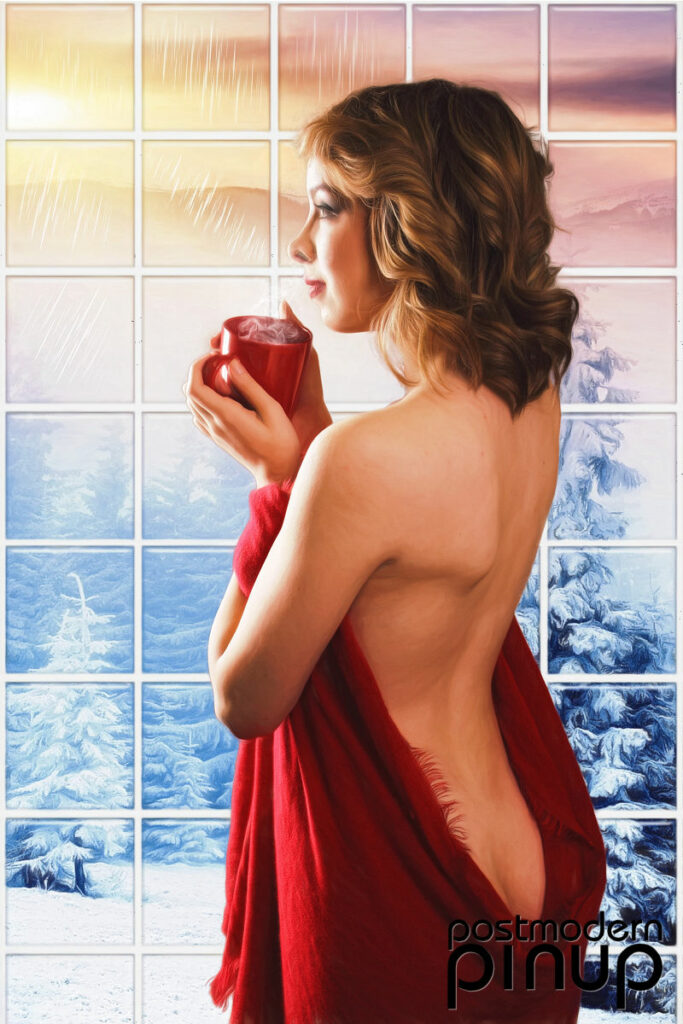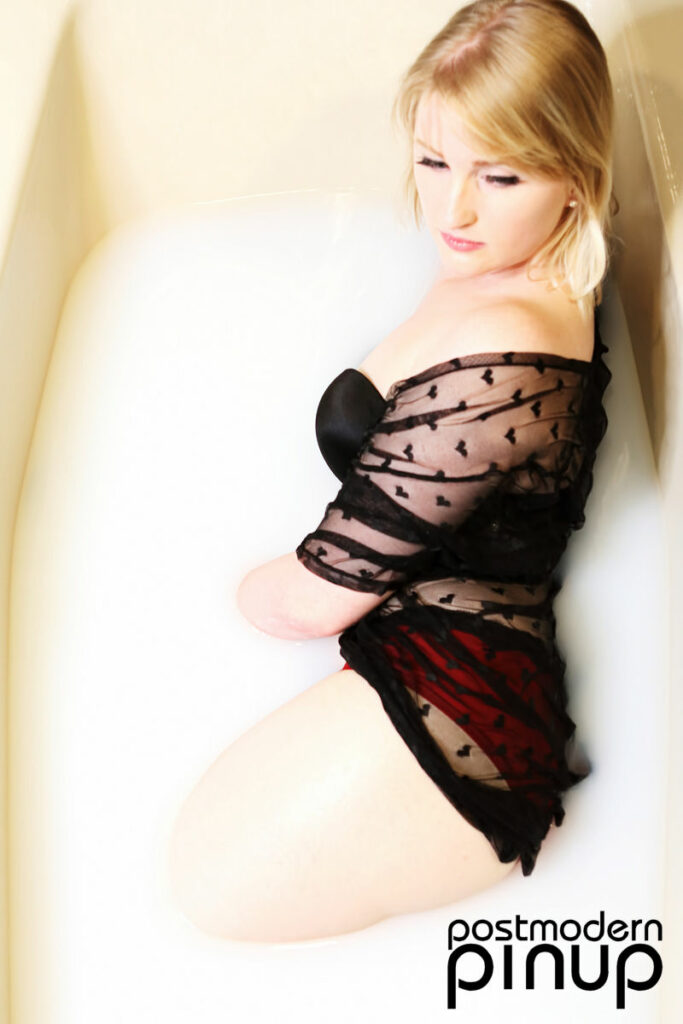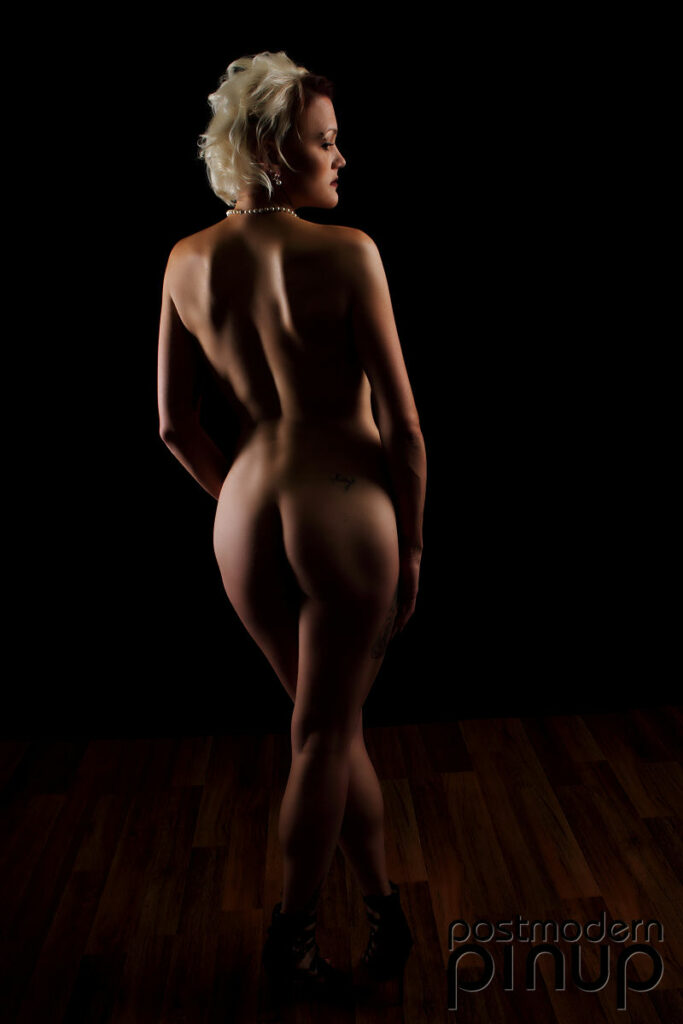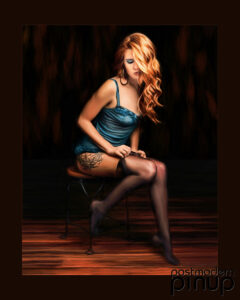 How much will it cost?
A regular session is $500 and includes the session, makeup and hair (no cutting), 10 finished images, and a Little Black Book – a small album of your session, with no additional purchase required. Additional images are available with purchase bonuses for album upgrades, wall prints, and more. My average client invests about $900 total in their session.
Where will the session be done?
Sessions can be done in your home, a friend's home, a hotel room, or a photo studio – whatever is most comfortable and appropriate for your vision. Hotel rooms, studio rentals, or other location fees are not included.
Can I bring a friend/boyfriend/husband?
Absolutely. In fact, I encourage it. Having someone you know can be great support to cheer you on as we reveal your inner goddess. A female companion is a favorite, but boyfriends and husbands are also allowed as long as the adhere to the rule that the session is about you. No negativity is allowed during your session.
Will my pictures be all over the Internet?
All of the images you see on my website are all approved by the gorgeous women in them for posting online. If there is an image from your session I would like to use, I will discuss it with you before anything is posted and if you don't want any to ever be online, that is ok, too. Nothing will be posted online without your express consent. Also, if you change your mind later and would like something removed, that is ok, also. Your feelings and privacy are more important to me than any image.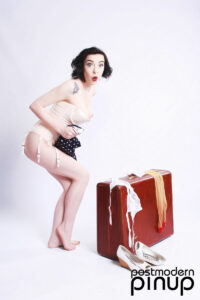 What if one of the images from the session reveals too much or is so embarrassing that I don't want it to ever be seen?
We will talk carefully about your boundaries and limits of what you want to show. If something is accidentally captured that you don't want to ever be seen, it will be deleted permanently either in camera or from the computer. You can even watch me do it if you want to be certain. I care deeply about your privacy. Remember, this session is all about you.
Do you do commissioned art pieces, fantasy images, body paint, or black tape projects?
Yes. I can do elaborate fantasy pieces placing you in any setting you can imagine – from Greek goddess to post-apocalyptic warrior. The only limit is your imagination. For examples of some of my fantasy work, I encourage you to visit my main art website. I also have found a fantastic body artist that can do amazing body painting and black tape projects. Please inquire if you are interested in any of these for a quote.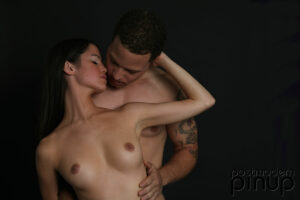 Do you photograph couples?
Yes. I am a hopeless romantic and love photographing expressions of love and tenderness. Since love knows no bounds, that applies to same sex couples as well as traditional partnerships.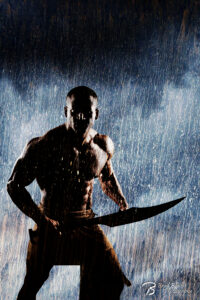 Do you photograph men?
Absolutely. While this website is geared toward women, I do photograph men as well – whether its athletic, "dudoir," nude, or just a straight GQ style look. Do you have a concept in mind? Use the link below and let's talk about it.
Other Questions?
Don't be shy – just ask.